Essential Hair Care from Root to Tip.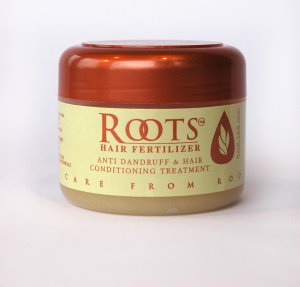 Roots Hair Fertiliser - 125ml
Anti Dandruff & Hair Conditioning Treatment.
Roots Hair Fertilizer prevents dandruff, itchy scalp, conditions broken and dry hair, encourages rapid hair growth and maintains pressed and permed hair. Contains peppermint and rosemary oil.
---
Roots Hair Grower - 125ml
Strengthens Hair and Adds Shine. For strong, shiny and healthy hair, Roots Hair Grower with Jojoba oil is an effective treatment that will repair hair damaged by heat, dryness or the sun.
It will also prevent dandruff by moisturizing the hair and scalp and will condition hair that is permed, braided or tinted while strengthening the hair and promoting growth.
---
Roots Oil Moisturiser Lotion - 250ml
Hair renewal System. By massaging a generous amount of Moisturiser Lotion into your hair and scalp everyday, you will be moisturizing and conditioning your hair, as well as repairing hair damaged by heat and natural elements and also preventing further damage and breakage.
This lotion will leave your hair more manageable and easier to comb. It is ideal for relaxed, tinted, permed or braided hair.

Roots Oil Moisturiser Spray - 250ml
Hair renewal System. With the same benefits as the Moisturiser Lotion, this spray will repair hair that has been damaged by chemicals and natural elements as well as keeping hair shiny, manageable and soft.
Roots Oil Moisturiser Spray can also be used as a styling product.
---
Roots Hair Food - 125ml
Hair Renewal System. Specially enriched with lanolin,
Roots Hair Food will nourish your hair and encourage growth, health and good conditioning as well as strengthening your hair, leaving it shiny, manageable and dandruff free.
Our "tried and trusted" beauty products are NOT TESTED ON ANIMALS.